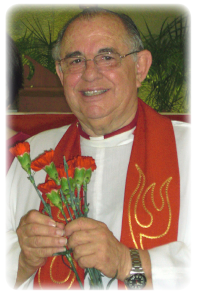 It is with a heavy heart that we communicate the passing last night of our beloved Fr. Vega. He served Puerto Rico for over five decades and was a fixture in many of the families at San Ignacio. Born in New York, he made Puerto Rico his home.
—
Donald M. Vega, SJ
October 24, 1934 – July 13, 2021
Entered the Society of Jesus August 14, 1953
Ordained a Priest June 10, 1965Final Vows Feb 2, 1968
Fr. Donald Vega was born in Buffalo, New York on October 24, 1934. His mother, Constance LaMendola was of Italian descent, and his father, Albert was from Bogotá. Fr. Vega studied at Canisius Jesuit High School and later two more years at Canisius College. His father, who was also educated by the Jesuits in Colombia had always prayed that one of his sons would receive a call to the priesthood.
His prayers were answered on August 14, 1953 when his son, Donald, entered the Jesuit novitiate in Poughkeepsie of the New York Province. Father Vega obtained his bachelor's degree in Philosohy andhis master's degree in Sociology from Fordham University. While he was working on his Master's he also began teaching at Xavier Jesuit High School in New York where he taught Latin and English. He also worked at the "Nativity Mission Center" where he met Fr. Walter Janer, SJ. Fr. Janer was to become the 'mentor' and 'guide' who helped him develop the strong sense of social justice that had been instilled in him by his father at an early age.
In 1960 Fr. Vega arrived in Puerto Rico for the first time where he began work as a professor of history and Christian Social Doctrine at the seminary of San Ildefonso in Aibonito. From 1962-1966 he continued his Jesuit formation in theological studies at Woodstock College where he joined the famous singing group known as "The Woodstock Jesuit Singers". The group achieved national recognition when they appeared on The Ed Sullivan Christmas program in 1963. During the summers of these years Fr. Vega worked in Georgetown University as chaplain and as an instructor for the Peace Corps. He also took classes at the School of Foreign Service in Latin American Studies.
On June 10, 1965 he was ordained to the priesthood of the Society of Jesus at Canisius College in Buffalo, New York. In 1967 Fr. Vega returned to Puerto Rico where he was named director of the Monserrate Community Center which supervised Special Education Programs. In 1970 Fr. Vega began his long work experience with the Island government which was even then grappling with the severe social problem of addiction in Puerto Rico. During this period, he worked with the Department of Social Services, The Department of Anti-Addiction Services, was Director of Drug Free Programs, and Director of the Rehabilitation Programs for Addicts and Alcoholics in the Puerto Rican Correctional System. He was also named as Special Assistant to the Secretary of the Department of Social Services. In recognition of his excellent work and dedication of so many years, Fr. Vega was awarded the prestigious "Manuel A. Pérez Award" in 1980 by then Governor Carlos Romero. This award is given to persons working in the government in recognition of their outstanding service and invaluable contributions to the people of Puerto Rico.
In 1982 Fr. Vega was named Pastor of San Ignacio Parish where he remained until 1989. Upon finishing his term as pastor, he was granted a well-deserved sabbatical for one year, but used his time to continue studying, this time at Harvard Divinity School where he studied Christian Social Ethics until 1990.
Returning to the Island, Fr. Vega was this time sent to Mayaguez until 1994 where he taught theology at the Pontifical Catholic University of Puerto Rico. Fr. Vega returned to San Juan in 1994 where he began his teaching career at the Interamerican University as professor of Philosophy, Ethics and Christian Faith. From 2006 to 2008 he also taught Philosophy to the seminarians of San Juan Bautista minor Seminary. Since returning to the San Juan area Fr. Vega has been a well-known and loved presence at San Ignacio Parish where he has collaborated with all the pastors giving of his time to celebrate masses in English and Spanish.
He is especially known for his passionate homilies exhorting the parish community to cultivate a deeper sense of compassion for and commitment to the poor and underprivileged of our society.