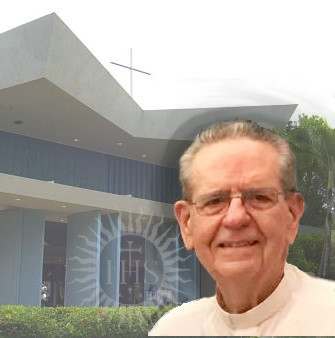 The Society of Jesus in Puerto Rico informs us of the passing of Fr. Carlos Lavergne, SJ. Fr. Lavergne was a beloved Jesuit priest that faithfully served Puerto Rico for 75 years.
There will be a wake in San Ignacio Parish on Wednesday, October 14 starting at 9:00am. There following, we will pray the rosary at 10:30am and celebrate the funeral mass at 11:00am. Due to the pandemic, the spaces in the temple are limited to 50 people. Please note that the mass will be transmitted live on the San Ignacio Parish Facebook page.
We appreciate your prayers.
Flavio I. Bravo, S.J.
Pastor
About Our Beloved Fr. Lavergne
Father Carlos Jorge Lavergne,SJ was born on December 22, 1929 in Río Piedras, Puerto Rico. He was baptized in the historic Nuestra Señora del Pilar church in the town center of Río Piedras. He studied with the Marianist brothers and priests in Colegio San José, also in Río Piedras.
He started his Jesuit education and experience when he entered Xavier University in Cincinnati, Ohio for his college. On January 24, 1951 he entered the Jesuit Novitiate of St Stanislaus in Havana, Cuba. In doing so, he was one of the earliest Puerto Rican jesuits. After completing his novitiate, he was sent to Spring Hill College en Mobile, Alabama for his studies in philosophy and science. There he obtained his bachelor and masters degree in 1958 and 1959, respectively.
Upon returning to Puerto Rico, Fr. Lavergne starts giving chemistry, science and religion classes at Colegio San Ignacio de Loyola. He taught there until 1962. That same year he left for Woodstock, Maryland where he studied theology at the time when Concilio Vaticano II was taking place.
He was ordained priest in the Society of Jesus on June 11, 1965 by H.E.R. Mons. Luis Aponte Martínez in the San Juan Cathedral. After his ordination he started his ministry as a chaplain, counselor and advisor at the University of Puerto Rico Catholic Center (Centro Universitario Católico, CUC).
In 1967 F. Lavergne was sent to Auriesville, New York for his Third Probation on February 2, 1970. There he pronounced his Final Vows in the Society of Jesus.
Fr. Lavergne was named Pastor of the San Ignacio Parish in 1972, this was only five years after having completed the construction of the temple. He served as pastor until May 1982. Following his service as pastor he took a year sabbatical and then in 1983 returned to Puerto Rico as economic administrator of the San Ignacio Jesuit Residence and superior for the Puerto Rico Region.
In January 2001, Fr. Lavergne celebrated his Golden Jubilee, 50 year anniversary of ordination in the Compañía de Jesús. In 2003, he traveled to Brazil. His experiences living among the poor deeply moved him. Upon his return to Puerto Rico he served ministered to the Caimito area of San Juan and served as vicar at San Ignacio Parish. He is remembered by many as a familiar pastor and for his seminars to the laity about the Liturgy and tjhe Eucharist.
Fr. Lavergne had been in declining health in recent years. He passed away on October 11, 2020.
(We want to thank the Perpetual Adoration Ministry for having documented Fr. Lavergne's life as part of a prayer tribute for all our priests. Thanks to their effort, we are able to share the rich details of his journey in life and faith.)